The series will be aired from April 4, 2022.
Special Modeling Studio Zeppet produced the main characters of Fanfane!, the 14th puppet play series in [Together with Mom].
Zeppet, the special modeling unit under BLAST, Inc.(3331 Arts Chiyoda, 6-11-14, Sotokanda, Chiyoda-ku,Tokyo 101-0021, Japan / CEO:Junya Okabe,) produced Mimomo, Yakoro, Lucita, and Āpun, the three main characters of Fanfane!, the new puppet play series to be broadcast on April 4, 2022 within "Together with Mom" of NHK Educational channel.
BLAST also announced that its CG & VFX team produced part of CG to be used in the play.
[ April 12, 2022: Postscript ]
Zeppet created the newly introduced character, Āpun, effective April 7, 2022.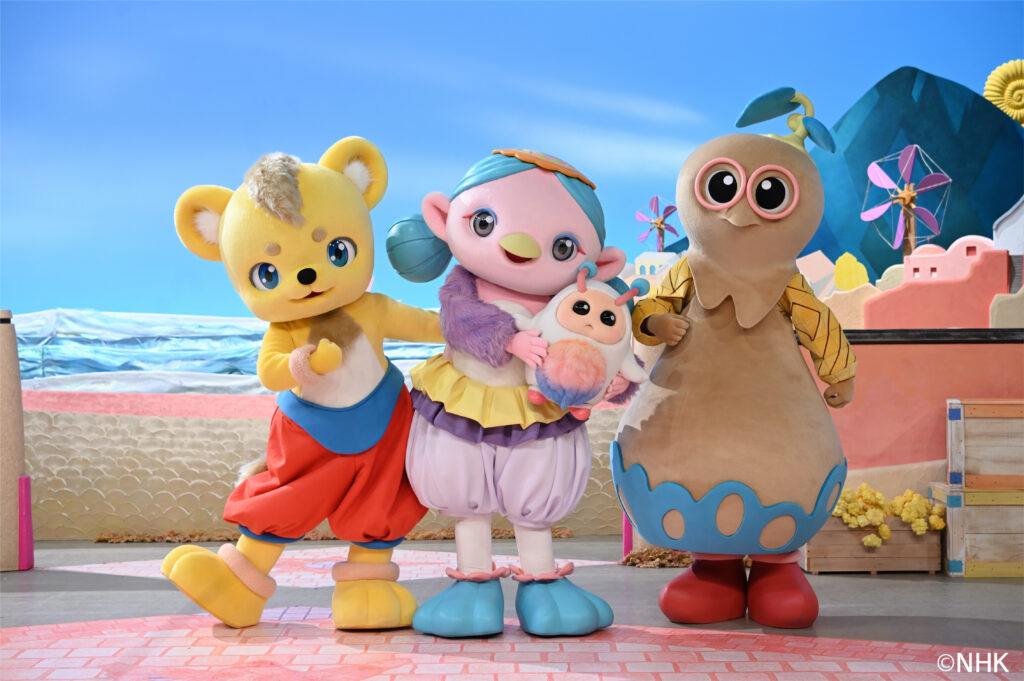 ■Okasan to issho(Together with Mom) Official Website: https://www.nhk.jp/p/okaasan/ts/ZPW9W9XN42/
■ Special effect modeling studio, Zeppet Official Website: https://www.zeppet.com/
■ BLAST Inc. Official Website: https://www.blast.jp/
■ Japan's iconic TV program for children running since 1959
Okasan to issho (Together with Mom) is one of the oldest TV programs continuously aired on NHK Educational channel for 63 years since 1959.
The education & music program is designed to entertain both parents and infants, and one of its components is the puppet play, which was initially introduced in the program in 1960.
The play, which undergoes renewal every several years, has been the staple of the program. Fanfane!, to be released in April 2022, will be the 14th generation of the series. The puppet play will feature Mimomo, Yakoro, Lucita, and Āpun, as well as various different characters, all of whom are expected to attract both parents and children across Japan.
■ Zeppet, specialized in high-end modeling like ultra-realistic animal masks, took charge of the production
Since its original foundation as Special Effect Studio Buildup in 1984, Special Modeling Studio Zeppet has been working on various modeling projects as the inhouse modeling workshop of BLAST, Inc. Besides production for feature films like BRAVESTORM and short special-effect movies like ZVP (Zatoichi versus Predator), the studio engages in numerous projects, such as the production of characters for ads.
The company is also in charge of character development and production of Seisei, the panda featured in ZIP!, the morning program of Nippon Television.
Works by BLAST, Inc. is also featured in multiple NHK programs, such as the realistic animal masks appeared in Mukashibanashi hotei (Fairytale Tribunal), a parallel-universe comedy called Saruigai no wakusei (Planet of Non-apes), etc., as well as Mijinko (water flea) in Chikyu Daihotei (Grand Bench of the Earth Court).
Junya Okabe, the representative of BLAST, Inc., won the Emmy Award during his days in Buildup for the production of Anomalocaris animatronics and CG images featured in NHK Special, "Four Billion Years' Journey of Life." In 2002, the company took charge of character development, designing, modeling, artworks, CG, and the production of the opening for Eigo de asobo (Let's Play English!), an NHK program.
Project inquiries
BLAST Inc. Contact: Osawa (Zeppet)
3331 Arts Chiyoda, 6-11-14 Sotokanda, Chiyoda-ku, Tokyo 101-0021, Japan
E-mail: zeppet@blast.jp *Please email us for inquiries.