BLAST consists of various production departments.
Our internal departments work together to offer composite creatives.
Project Development
We plan and develop an extensive range of entertainment products for films, projects using characters and digital contents, toys and hobby products, and attraction facilities.
In addition, besides development, we offer support services to help clients deploy the optimal plans for projects, such as online video delivery, the development of related products, conventional distribution, and sales. Our development environment has connections with various production sites. We propose specific and the best available plans that meet the schedule, budget, and other production conditions of partners and clients.
■ Planning and production of video content
(Films, television advertisement, online/mobile videos distribution, etc.)
■ Settings, scripts, storyboards, and drawing of visuals.
■ Planning, settings, design, figure for characters.
■ Planning and design of toys and hobby products
■ Amusement facilities, events, and installation attractions
CG & Special effects production
Our personnel are equipped with the ability to bring ideas into reality with unique creativity. While adopting constantly evolving advanced digital video technology at all times, they also leverage traditional techniques of tokusatsu (special effects) and special modeling to continuously produce a variety of video projects for television, film, online presentation, and DVDs around the clock. In particular, our organization encompasses the CG and VFX departments (CG, VFX, special effects, etc.), as well as our special modeling studio Zeppet (special modeling, special makeup, miniatures, etc.), to offer our unique creative style.
■ Planning to actual production of video contents
■ Video production for television, theatrical films, DVDs, online presentation, and attractions
■ CG, VFX and Special effects
■ Special effects video sector for the videos of local mascots and superheroes.
Film production & Sale
Film production requires a huge number of personnel along with enormous time and costs from plan development, actual production, distribution, advertising before screening, and the sale of related products. BLAST has expertise in all these elements. We produced a Special effects movie Bravestorm in 2017 to carry out many tasks from planning and production to the sale of related products.
Under the supervision of CEO Junya Okabe, who has a wealth of experience as a director and producer, we present production plans according to budget and scale. Based on the plans, we set up a production structure by utilizing our internal production department. In addition, we put together external personnel who have worked with us in various projects in the past when needed. For each operational level, we gather necessary human resources to aim for higher quality within a set framework.

>> Click here for the details of film production
■ Planning and the production of video contents
(films, television advertisement, online/mobile videos distribution, etc.)
■ Settings, scripts, storyboards, and drawing of visuals.
■ Planning, settings, design, figure for characters.
■ Planning and design of toys and hobby products
■ Planning and sale of Blu-ray and DVDs
Special modeling production
Special modeling, which was an essential part of video expression for SFX and videos using Special effects in the past, has been replaced by CG and VFX took over the last 20 years. Even so, some scenes can be only expressed and staged using special modeling. Its quality and work efficiency remain necessary in the industry. In Hollywood in the United States, special modeling is widely adopted even today.
Our special modeling studio, Zeppet, inherits Buildup's spirit of modeling. Zeppet makes full use of traditional modeling techniques and digital modeling using the latest three-dimensional CG technology to continuously bring the images created by our staff and clients into reality.
Special modeling studio, Zeppet
Hollywood creators, skilled molders, and young creators gather to work with Junya Okabe who has over 30 years of experience in modeling production. In addition to traditional production techniques, BLAST covers from digital image processing to the output of three-dimensional data.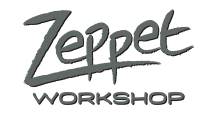 ■ Characters and creatures
From cute characters to ferocious monsters, we design, develop, and produce full-body suits, figures, and animatronics for various characters and creatures.
■ Props and miniatures
BLAST produces props, such as the arms of a cyborg and guns in a near future, as well as various miniatures of spaceships and combat robots. We also produce vehicles that can actually travel, such as motor bikes for superheroes in Special effects.
■ Special effects costumes
From body suits for superheroes, armors for fantasy images, dresses, uniforms, and masks of a secret organization to outrageous costumes for live stage performances, BLAST offers a wide variety of costume productions.
■ Robots and mechanicals
We develop fascinating mechanicals and automatic control robots with expressive gestures, facial expressions, and acting skills from a type that operates using internal wires and complicated mechanisms to a radio-controlled type with highly sophisticated and complicated mechanisms.
Creator Management
Because many creators in Japan work as freelancers, they often experience difficulties with negotiations, contracts, and other miscellaneous tasks, as well as marketing activities and sending offers to overseas companies to explore new possibilities in production. When these creators work with us to carry out their management operations, they can fully show their talent. BLAST can help creators work on a project that they can never find on their own through independent activity to be financially rewarded.
Each project requires creators to suit individual needs when needed. BLAST dispatches an extensive range of creators specializing in design, CG, and special modeling. From full-time to part-time, we flexibly dispatch creators who can correspond to various scenes.
■ Branding for creators
■ Domestic and international marketing for creators
■ Negotiations on behalf of creators
■ Legal-related tasks on behalf of creators
Amusement Devices & Attractions
We take pride in translating an unreal world into reality. We also display our expertise in the production for amusement attractions and attraction facilities. We develop dinosaurs, historical figures, animals, and other robots for exhibition into large-scale visuals, three-dimensional visuals, and local facilities. Our experience and accomplishments accumulated since our founding prove our solid track records not only in Japan but also various places in Asia. In addition, our achievements reflect the production of LCD visions for amusement devices, such as pachinko and slot machines, while ensuring a good balance of production efficiency and quality.
■ Event attractions
■ Modeled objects for exhibition and art production
■ Amusement robots
■ Visuals for amusement devices
Product development & Sale
We develop plans for various figures, such as small toys sold with food, limited-time products, novelties, and commercial products. Our services cover the design and original modeling of mass-production products, the production of color samples, and the mass production of actual products using factories in Japan and China. To meet the needs of figure collectors, we can also collaborate with outside famous sculptors and figure designers without limiting to our internal special modeling studio.
■ Planning, original modeling, mass production, and the sale of figures, toys, and novelties.
■ Various commissioned projects related to figures
■ Three-dimensional modeling model from three-dimensional CG data and coloring for exhibitions.