Profile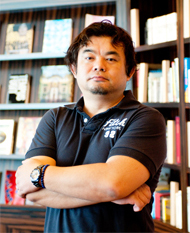 Who is Junya Okabe?
Junya Okabe entered the industry specializing in special modeling, CG, and VFX to work on various projects in the entertainment industry,
including films, television advertisements, television, games, amusement attractions, and the visuals for online distribution.
After leaving Tsuburaya Productions, he established BLAST in 2010 with elite creators from various fields to make the best use of his previous experience.
In the recent years, in addition to film works, he is involved in the production of artworks and the development of products by leveraging his experience.
Areas of expertise
Planning and development
Production
Direction
Scriptwriting
Visual supervision
Production of special modeling
Major works
FILMS
D

1999 / Production, Scriptwriting, Direction

At the request of a film distribution company, GAGA, Junya Okabe took charge of production, scriptwriting, and direction (his first video direction). Buildup, Co., Ltd., a company headed by Okabe at that time, was in charge of film production.
D is a completely original work and features a dark world view and the main character dressed in combat suits, which still attracts a strong following.
After enjoying high popularity at the "Tokyo Fantastic Film Festival", D was released on DVD.
It was also released in the United States under the title, "Dark Soldier D".

SPECTER

2005 / Production, Scriptwriting, Direction

A game company, Konami, requested Junya Okabe to produce, write scripts, and direct the film.
Buildup, Co., Ltd., a company headed by Okabe at that time, took charge of film production.
The film was marketed in conjunction with the sale of special effects character visual products (DVD) and character goods as a single package. Figures were sold at special effects events for a limited time. Junya also took charge of a prototype model of figures.

Mega Monster Battle: Ultra Galaxy Legend The Movie

2009 / Production, Scriptwriting, Visual supervision

This film attracted attention for the first appearance of the new characters "Ultraman Zero" and "Ultraman Belial", as well as the heavy use of full CG production by filming entirely with a green background and wire stunts, offering a new look to the previous Ultraman series. The film was screened in China in 2011 and became the highest-grossing film in the history of Japanese films screened in China. Junya Okabe took charge of production, screenwriting, and visual supervision.

Ultraman Mebius Side Story: Ghost Reverse

2009 / Overall production

It is the third sequel of a side story OV for a television special effects series titled "Ultraman Mebius" (First part and second part).
The story serves as a prequel to "Mega Monster Battle: Ultra Galaxy Legend The Movie" produced around the same time. As with the film, it was filmed entirely with a green background featuring the heavy use of wire stunts.
Junya Okabe took charge of overall production.

CAT SHIT ONE -THE ANIMATED SERIES-

2010 / Production

This film work was produced as a full CG animation based on a manga series of the same title illustrated by Motofumi Kobayashi. CEO Junya Okabe of the company served as a producer.
The entire HD video was streamed on YouTube for free for a limited time, which attracted attention for its unprecedented promotion at that time.It also attracted worldwide attention after being nominated as the only Japanese film in the short animation category at the Ninth Annual "VES Awards" known as the top award in the CG industry in Hollywood, USA.
BLAST released a DVD and Blu-ray version, which became a major hit, selling over 30,000 copies.
©︎2010 Motofumi Kobayashi / Anima BLAST

>> See details

BRAVESTORM

2017 / Production, Scriptwriting, Direction

This special effects film is a remake of the SF special effects shows, "Silver Mask" and "Super Robot Red Baron", in the 70s. It was produced by Junya Okabe who also offered scriptwriting and direction. BLAST took charge of film production.
BRAVESTORM is the first full-length theatrical movie produced by gathering all the talents of BLAST in CG, VFX, and special modeling.
This film was released in Toho Cinemas and other theaters across the nation, as well as theaters in five countries around the world.
©︎albatross japan

>> See details
>> Official website of "BRAVESTORM"

Zatoichi vs. Predator

2017/ Production, Scriptwriting, Direction

Celebrating the miraculous year marking the 50th anniversary of the death of the original author of "Zatoichi", Kan Shimozawa, the 20th anniversary of the death of the actor Shintaro Katsu, and the 30th anniversary of the release of the movie "Predator", BLAST created this non-profit fan movie.
Junya Okabe oversaw production, screenwriting, and direction. BLAST filmed it in three days at its in-house film production studio.
It was released on Vimeo and YouTube and received high acclaim from around the world.

>> Special website of "Zatoichi vs. Predator"

Television

NHK Special Seimei

1994 / CG visuals and Anomalcaris robot

Junya Okabe was involved in the production of CG visuals for Anomalcaris and animatronics for "Second Collection: Mysterial Large Explosion of Involvement" for a NHK's documentary series, titled "Seimei 40 Okunen Harukana Tabi", which won the "Emmy Award" hosted by the Academy of Television Arts & Sciences in the United States.

>> See details

Eigo de Asobo

2001-2002 / Character production and opening visuals

This is a TV program series for English language education aired on NHK Educational TV (current E Tele.)
Junya Okabe produced a full-body suit, two puppets, and opening visuals for a series broadcast from 2001 to 2002.

Uchuu Daisakusen Choco Vader

2003 / Total 26 episodes, Animation show production

This project is a visual production for a show of the same title in conjunction with candy toys and visuals. It was aired on Fuji TV as the first television animation produced using Flash.
Besides the figures of aliens and UFOs sold from the season one through four, which were sold as candy toys, Uchuu Daisakusen Choco Vader was deployed as a game for the Game Boy (Nintendo) at that time, arcade games, toys, and various other media.

>> See details

Tensai Televi-Kun

2005–2006 / Drama (Three seasons, Total nine episodes) Production, scriptwriting and direction

Junya Okabe oversaw a drama for an educational show series, "Tensai Televi-Kun", aired on NHK Educational TV (current E Tele.) As a member of Buildup, Co., Ltd., he was involved in the production of three shows, including "Tatakae! Cyber Kids Daisakusen" (2005), "Papa ga Panda" (2006) and "Dash Man" (2006).

Ultra Galaxy Mega Monster Battle: Never Ending Odyssey

2008 / Overall production

Never Ending Odyssey is the second television sequel to "Ultra Galaxy Mega Monster Battle", which is linked to Bandai's toy, the Data Carddass game, titled "Mega Monster Battle Ultra Monsters".
Junya Okabe took charge of overall production.

Amusement Attractions

Saigo no Kyoryu Okoku

1992 / Production of "Talking Dinosaur Gaosu" and the overall maintenance of the robot dinosaurs

For an event titled "Saigo no Kyoryu Okoku" held at "Shintakanawa Prince Hotel", Junya took charge of the production of animatronics, "Talking Dinosaur Gaosu", as well as the maintenance of robot dinosaurs for exhibition.
The robot can be manipulated in real time by looking at a monitor. It also can engage in direct conversation with visitors for interaction and gained popularity.

>> See details

Giant Dinosaur Exhibition: Dino-A-Live

1993 / Overall staging and production of robots

For a dinosaur exhibition held in Umeda, Osaka, Junya collaborated with a figure manufacturer, "Kaiyodo Co., Ltd."

Osaka Gas Science Museum

1991 / Production of "Uchu Kaigi" and "Space Theater"

Operated by "Osaka Gas", it is a promotional facility for gas and earth environment.
Junya Okabe produced robots for the facilities and art models.

>> See details

Sega Joypolis

1994 / Production of "Ghost Hunters" and "Mad Bazooka"

For an amusement park opened by "Sega Games Co., Ltd.", at that time, Junya produced "Ghost Hunters" and "Mad Bazooka" for the park.

Namco WonderEggs

1992 / Production of "Uranai Majo no Yakata". 1993 / Production of "Virtual Vehicle"

Namco WonderEggs was a theme park operated by "Namco" Limited at that time, which opened in 1992 and closed in 2000. Junya produced park attractions, including "Uranai Majo no Yakata" and "Virtual Vehicle".

Tamanoi Vinegar, Corporate presentation facilities

2007 / Production of "Presentation Robot Type 02" and HD theater

For the construction of a head office building for one of Kansai's leading vinegar manufacturers, Tamanoi Vinegar Corporation, Junya Okabe received a production request for the visitors' facilities where a robot provides a presentation for the company. He held a face-to-face interview with the company's president to propose a facility plan.
Junya was involved from the invention to the production of a robot, CG characters, and main HD visuals to complete, as well as the production of MIDI system to control and choreograph the robot, visuals, sound and lighting all together.
Junya successfully realized unparalleled animatronics in the country.

>> See details

Other

Kome Kome Club, Modeled live costumes

1990 / Production of modeled costumes and stage artwork

Junya produced modeled costumes and stage artwork for the concert of a band, "Kome Kome Club".
Kome Kome Club's live performance was highly regarded for the element of entertainment. Their costumes and stage artwork produced by Junya played a part to bring excitement to their performance.

Uchuu Daisakusen Choco Vader

2001 / Planning of character candy toys

For the first time under Buildup Co., Ltd., Junya Okabe took charge of the production of character visuals and toys linked to this series.
He planned and designed candy toys and visuals to sell UFO and alien figures included with candies in convenience stores.
From season one through four, fifty types of figures featuring aliens and UFOs were sold as candy toys. After that, Uchuu Daisakusen Choco Vader became a game for the Game Boy (Nintendo) at that time, arcade games, and toys. A television animation (the first television program produced using Flash) was also broadcast on Fuji TV.

>> See details

Kaiki Seibutsu no Sekai

2003 / Visual planning

This short video for online distribution features videos of mysterious creators exist in places around Japan.
A total of ten episodes show "Skyfish", "Hibagon", "Kappa", UMA, and other supernatural monsters, which were distributed at diners and through Internet service providers and KDDI and released on DVD.

PQ

2006-2007 / Toy planning

This toy series is a remake of "Kewpie dolls" with a unique design.
Eight types of kewpie dolls, including "Debu Q", an overweight kewpie, "Jiji Q", an old kewpie, and "Guro Q", a kewpie that resembles an anatomical model of the human body, were sold as prizes for UFO catchers. Television advertisement was also produced.

The Water Horse, Odaiba Water Screen Giant Dinosaur Show

2008 / Event promotion

Before the premier of the American movie, "The Water Horse: Legend of the Deep", a premier event was held at Shiokaze Park in Odaiba by inviting casts and staff. Junya invented and took charge of a show where a character of the movie, Nessie, appears from Tokyo Bay.
A "Water screen", where special nozzles were used to pump water from the surface to spray in a fan-like form, was used to project three-dimensional images over the water.

Work Exhibition of Takayuki Takeya

2013 / Creator Management and the hosting of work exhibition

As one of the management projects for Japan's top figure sculptor Takayuki Takeya, who also catches the world's attention, a planned exhibition was held at the art space "Arts Chiyoda 3331" in Chiyoda, Tokyo, under the title "Work Exhibition of Takayuki Takeya". In addition to over 80 figures in all sizes, a number of his pieces including design drawings and behind-the-scenes videos were displayed. Also, new figures were sold for the exhibition of his work.

>> See details