We took part in "Art Fair Tokyo 2017" held at the Hall E & Lobby Gallery at Tokyo International Forum
from March 16, 2017 (Thu) to March 19, 2017 (Sun).
We displayed the lifelike Polar Bear Family, the first production of "Animals As Art" lineup,
which has been much talked about on TV & various news sites.
>>"Living with polar bears at home" 1st production of "Animals As Art" : Polar Bear Family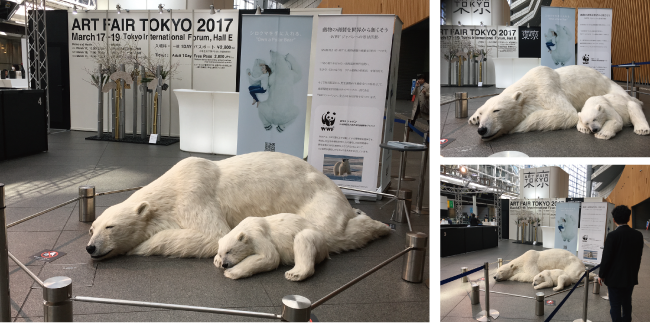 The display took place at the Lobby Gallery on B1F, where admission was free.
We enjoyed many visitors, to all of whom we would like to extend our sincere thanks.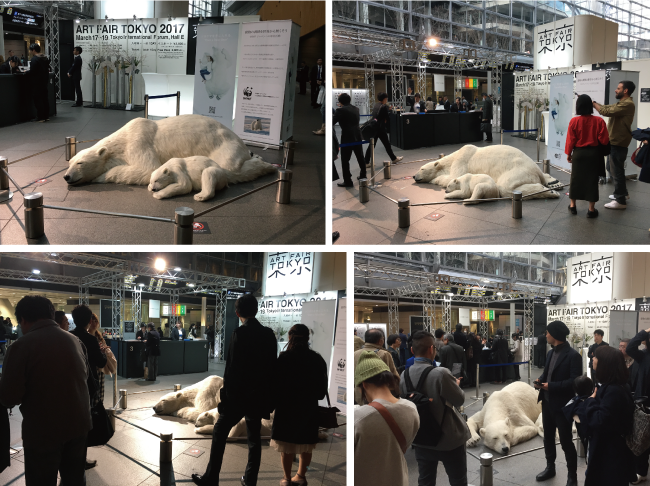 【Event Outline】
  Art Fair Tokyo 2017
Venue:
  Hall E & Lobby Gallery at Tokyo International Fo-rum
  B1F-B2F, Tower G (Glass Tower), 3-5-1 Marunouchi, Chiyoda-ku, Tokyo
Organizers:
  Art Tokyo Association / TV Tokyo / BS Japan
Period:
  March 16, 2017 (Thu) – March 19, 2017 (Sun) (4 days)
◆First Choice
  March 16 (Thu) 16:00 – 18:00
◆Opening Preview
  March 16 (Thu) 18:00 – 21:00
◆Press Preview
  March 16 (Thu) 16:00 – 21:00
◆Special Early Entry
  March 17 (Fri) 11:00 – 13:00
◆Regular Opening Hours
  March 17 (Fri) 13:00 – 20:00
  March 18 (Sat) 11:00 – 20:00
  March 19 (Sun) 10:30 – 17:00
1DAY Passport: 2,800 yen (same-day ticket)
Art Fair Tokyo 2017 official website : http://artfairtokyo.com